Please check this page regularly for updates. We will continually update it as we receive more information from the SBA.
Last updated June 17, 2020 at 5:05 pm CST.
PPP Loan Forgiveness
The SBA has released revised guidance on PPP Loan Forgiveness for Borrowers. The Forgiveness application requires Borrowers to submit to the Lender (Wallis Bank).
We recommend you have a copy of your loan documents when you fill out these forms as the information contained on the first page will be helpful. See sample below.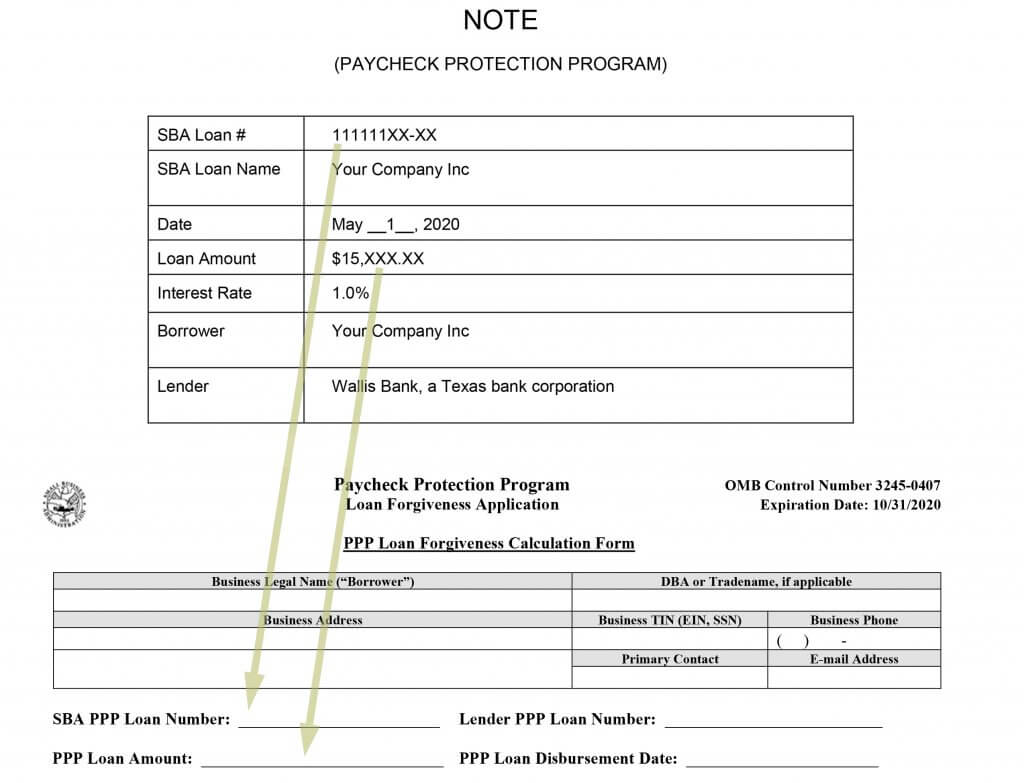 As the information asked on these forms is specific to your business, we recommend that you check with your accountant for specific questions regarding amounts within the forms.
Once we receive your request for Forgiveness, we will process the request and then submit the request to the SBA on your behalf within 60 days. The SBA has up to an additional 90 days to respond to the request. As such, we ask that you wait a minimum of 120 days before inquiring about the status of your forgiveness. If your loan is forgiven, you will receive correspondence from the us alerting you to the amount of forgiveness approved by the SBA and your responsibilities for the remaining portion of your loan should there be a balance.
Electronic submissions for forgiveness can be sent to us at PPPForgivenessSubmissions@wallisbank.com.
Forgiveness Forms
To determine which PPP Forgiveness application is needed, please read the checklist below.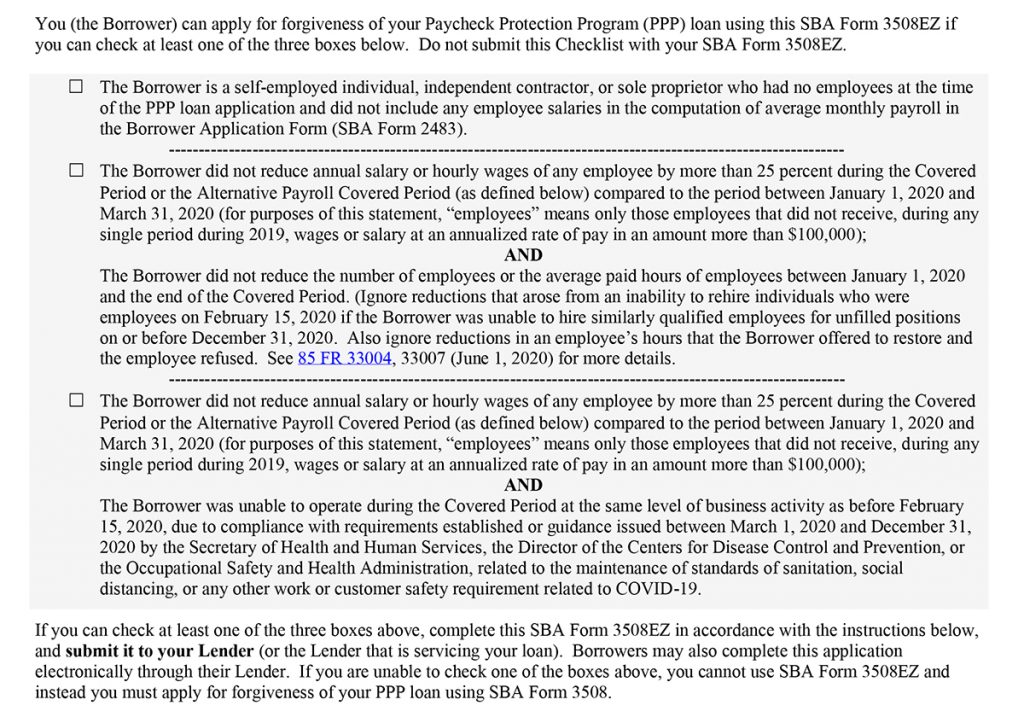 The PPP Forgiveness Application Form 3508EZ can be found below.
For borrowers that do not meet the criteria to apply using the Forgiveness Application Form 3508EZ, the PPP Forgiveness Application is below.
Any additional updates to these forms including and potential FAQ's from the SBA will be posted here for your reference as they become available. Questions on PPP Forgiveness can be sent to PPPForgivenesssQuestions@wallisbank.com.
Small Business Paycheck Protection Program
The Paycheck Protection Program provides small businesses with funds to pay up to 8 weeks of payroll costs including benefits.  Funds can also be used to pay interest on mortgages, rent, and utilities.
Fully Forgiven*

Funds are provided in the form of loans that will be fully forgiven when used for payroll costs, interest on mortgages, rent, and utilities (due to likely high subscription, at least 75% of the forgiven amount must have been used for payroll).  Loan payments will also be deferred for six months.  No collateral or personal guarantees are required.  Neither the government nor lenders will charge small businesses any fees.

Must Keep Employees on the Payroll – or Rehire Quickly

Forgiveness is based on the employer maintaining or quickly rehiring employees and maintaining salary levels.  Forgiveness will be reduced if full-time headcount declines, or if salaries and wages decrease.

All Small Businesses Eligible

Small businesses with 500 or fewer employees  – including nonprofits, veteran organizations, tribal concerns, self-employed individuals, sole proprietorships, and independent contractors – are eligible.  Businesses with more than 500 employees are eligible in certain industries.

When to Apply

Starting April 3, 2020, small businesses and sole proprietorships can apply.  Starting April 10, 2020, independent contractors and self-employed individuals can apply.  We encourage you to apply as quickly as you can because there is a funding cap.

How to Apply

Please note that we are no longer accepting PPP applications.
*The Paycheck Protection Program is implemented by the Small Business Administration with support from the Department of the Treasury.  You can visit www.sba.gov or www.coronavirus.gov for full loan program details.
Economic Injury Disaster Loan (EIDL)
For resources and information about disaster assistance, visit the SBA Disaster assistance page.  To apply for EIDL, click here.